Floraco Wholesale Flowers

Floraco provides "wholesale flowers only to the florist and flower shops in WA". For trade enquiries, please contact us using the 'Contact Us' form or for assistance in finding your local florist, try our 'Stockist Locator' by simply typing in your postcode.
Floraco Pty Ltd is Western Australia's largest producer of quality fresh flowers. We are one of Australia's premier growers and provider of wholesaler flowers and supply many florists around WA with quality flowers on a daily basis. Floraco has been growing flowers for over 25 years. Our production facility is in excess of 55,000 m2 of modern computer controlled growing facilities. We currently produce Gerberas, Roses, Asiatic and Oriental Lilliums, Chrysanthemums and Longiflorum each week of the year. In the winter months we also produce outstanding Tulips, Iris and Strelitzia. Floraco provides an extensive range of flowers and foliage by offering products from other producers in Western Australia and the Eastern States in our outlets.
Floraco has two wholesale flower outlets, one in East Perth and one in West Leederville. All products available at these locations are listed in the products menu.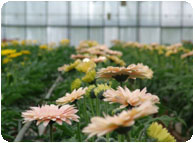 West Leederville
East Perth
Mon
5am-2pm
Mon
8am-2pm
Tues
6am-2pm
Tues
8am-2pm
Wed
5am-2pm
Wed
8am-2pm
Thurs
6am-2pm
Thurs
8am-2pm
Fri
5am-2pm
Fri
8am-2pm
Sat
6am-10am
Sat
closed
Sun
closed
Sun
8am-10am
Find a Florist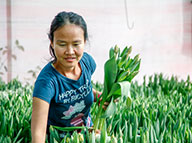 We have a number of florists located in WA for you to order your flowers. Simply enter in your postcode below to view the nearest Florist.
Enter your Postcode:
Don't know your postcode? Click here to find out.